Apartment Amenities
With so much land available to us, we were able to build a beautiful apartment complex. This has allowed us to offer our tenants more options in terms of room, outdoor activities, and apartment amenities. We are able to provide our renters with various amenity options both inside and outside the apartments.

Each apartment is unique so the amenities may vary depending on the apartment.
View the list of amenities below to see what will be available to you when you join our community.
Amenities in Every Apartment
We tried to make each of our apartments as unique as possible with various floor plans and internal designs. With these differences, the layouts of our units vary slightly, but each unit comes with a base collection of amenities. We have our base models as well as upgraded units resulting in a varying pricepoint.

Kitchen
Each apartment kitchen has its own modern and functional layout.

Hardwood cabinets and great appliances are in every kitchen.
Microwave
High-end hickory wood cabinets
High-end finishes and countertops
Full-sized refrigerator
Full-sized stove
Full-sized dishwasher (offered in select units)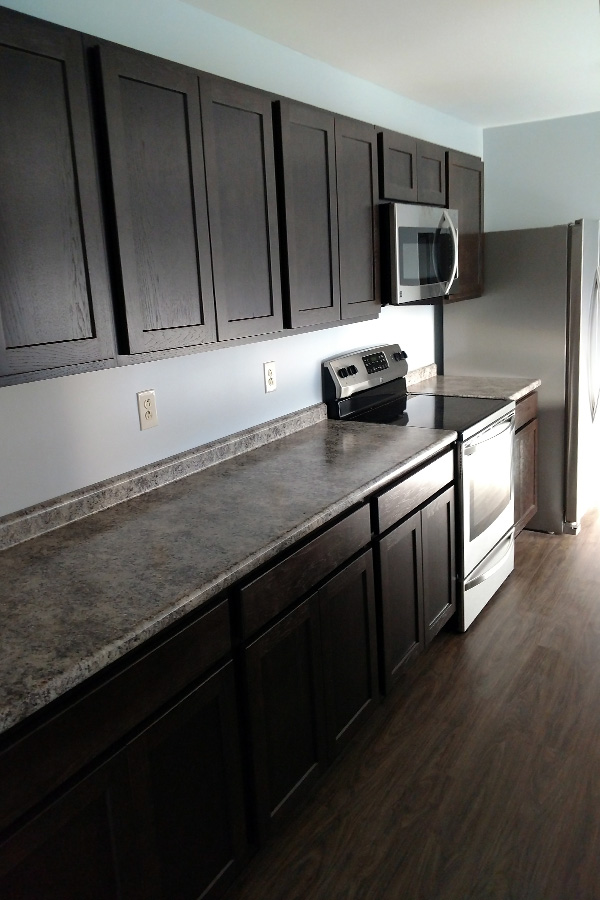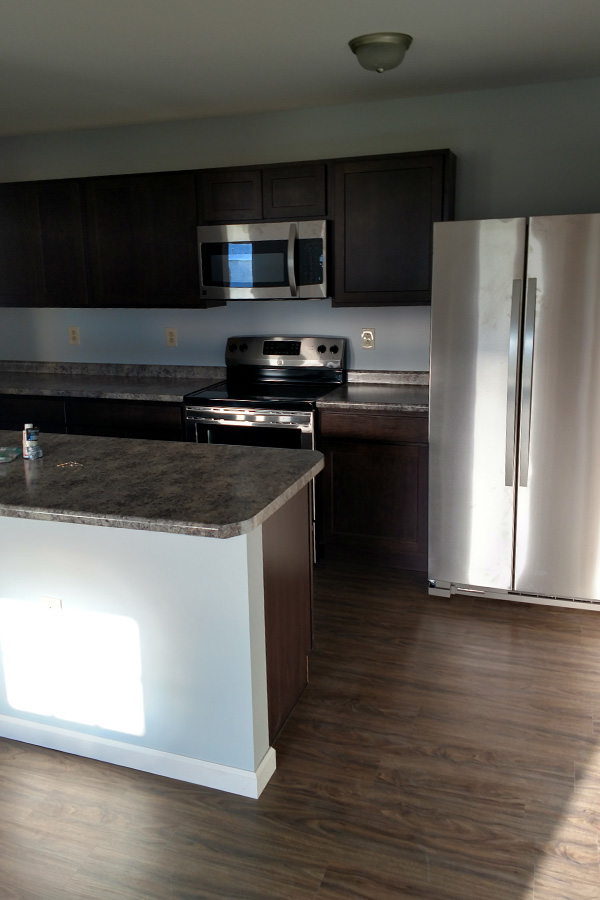 Bathroom
All apartments have a full-sized, clean bathroom with great lighting and endless hot water.
Combined Shower and Bath
Toilet
Sink
Cabinets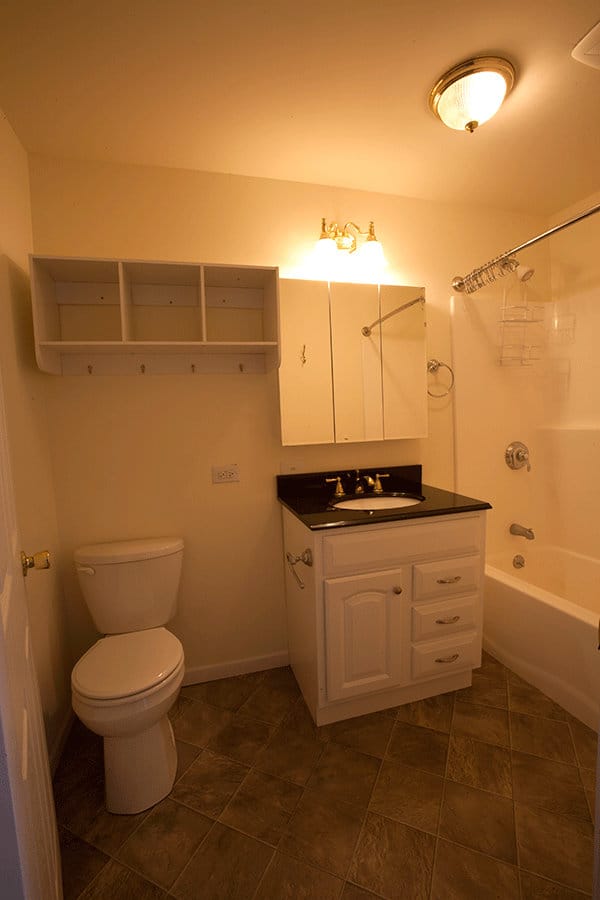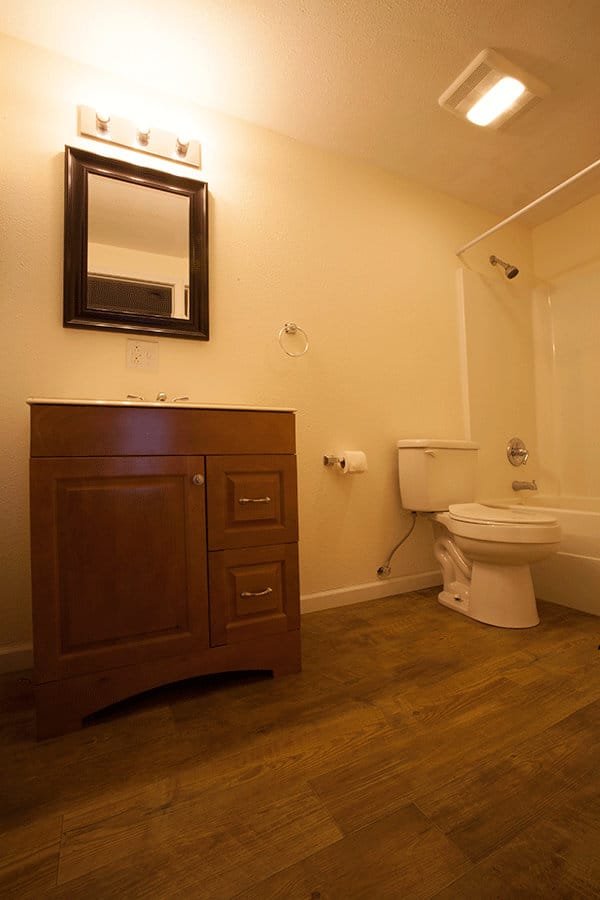 Clean and spacious bathrooms in every apartment.
Unit
Every unit is unique in style and quality design. Some units are fully furnished per your needs and requests.
2 Bedrooms
Dining Area
Heating
Water
Electricity
On-site trash and recycling
Snow and ice removal
Parking
Each apartment comes with parking room for a minimum of 2 vehicles on either paved or unpaved spot. There are some apartments that offer garage parking upon request.
Garages
Minimum 2 parking spaces per unit – paved and unpaved options


Parking spaces
Pets

Pets ARE allowed at Garden Place Estates!
Garden Place Estates is proud to be a pet-friendly apartment property. The majority of our furry tenants are smaller in size, however, we are willing to discuss pets of various sizes as well. We understand that your furbabies are a part of your family and, as we are a family run business, we appreciate wanting all of your family to be welcomed into a new home. So, we do the best we can to accommodate and welcome your pets. We do require a non-refundable pet deposit for all of our furry friends.
Room to run (no fences, so let your pet off the leash at your own risk)
Waste disposal bins (bags not provided)
Please note that dogs weighing more than 20 pounds are not allowed.
Laundry
Coin operated laundry is provided on site on the 1st floor of the main building. There are some apartment units that come with full-sized washing and drying machines, but most do not.
Shared on-site laundry room
Washer and dryer (offered in select units)
Recreational
There is a small gym on site that is free to use for renters; the gym is open twenty-four hours a day and only requires a key for entrance.
The property is very large and scenic and is open for any number of outdoor activities. There is enough open space to set up a game of Croquet, Bad mitten, volleyball, or enjoy a Frisbee with your pet or family.
Recognizing the value of biking for emotional, physical, and economic reasons, our Apartments are close enough to town and possibly your place of work or studies, to bike everywhere you need to go.
Our ponds are for viewing purposes only, and in the name of peaceful enjoyment, we have placed a gazebo for our tenants to sit and enjoy the scenery. This is an excellent place to sit with that favorite book you have been meaning to read.
We also provide an activity room where our renters are welcome to host birthday parties and other organized group events.
Gym
Outdoor areas
Biking (driveway and into town)
Gazebo (peacefully placed next to ponds)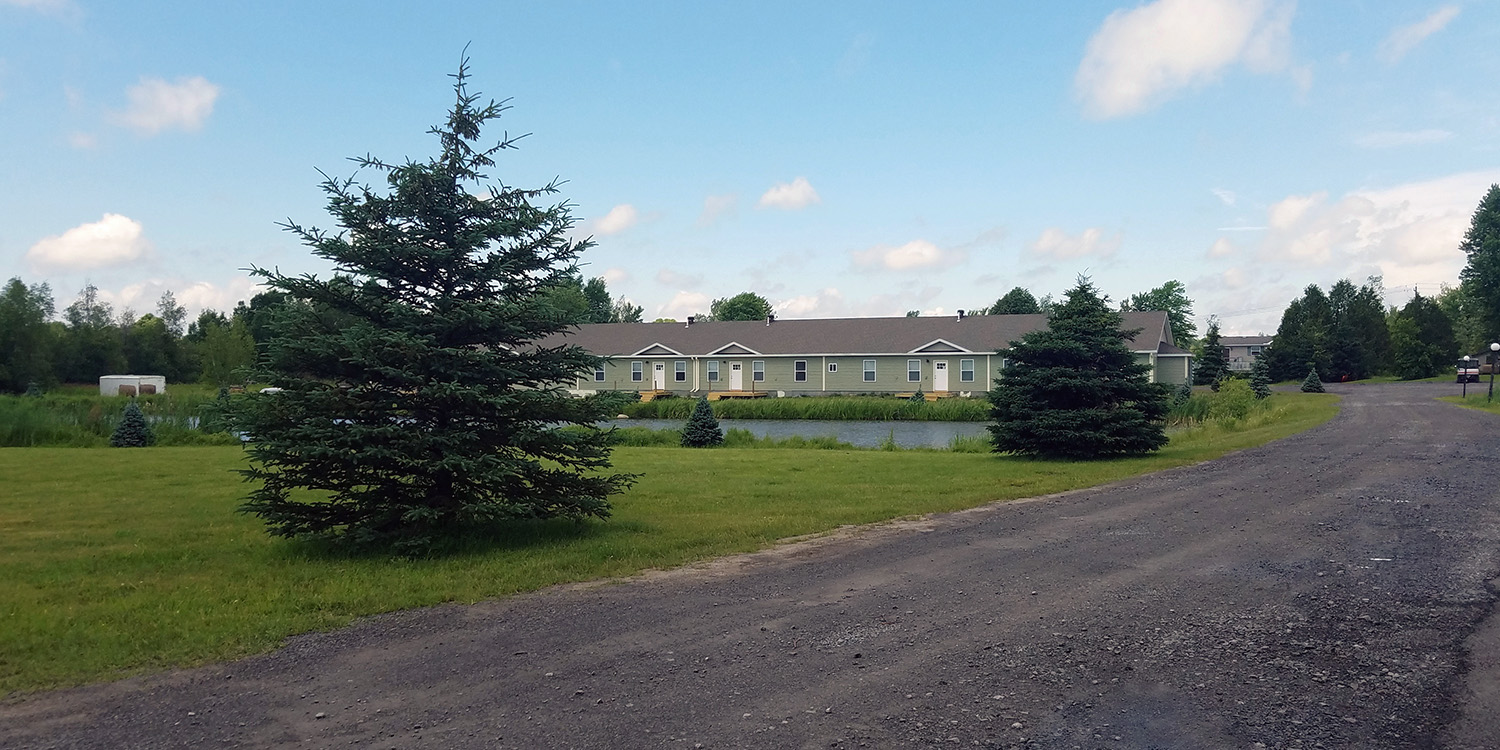 Optional
Wi-Fi
Cable and TV
Telephone
Floor model Air-conditioning Unit
Our modern apartments have a little something to offer to everyone! From being a pet-friendly location to providing fully furnished rooms, Garden Place Estates Apartments easily becomes home to our renters. It is our goal to make sure every one of our guests feels comfortable and stress-free when renting with us. So, if you have any questions or concerns that you'd like us to address, you are more than welcome to contact us!